A step-by-step guide on how to apply makeup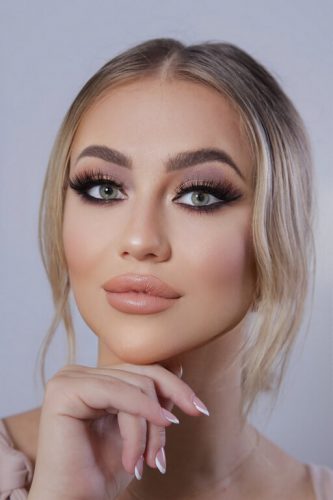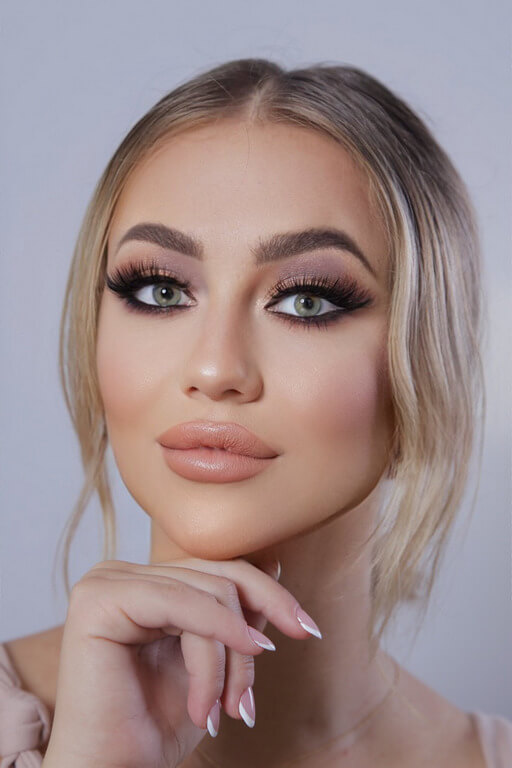 Scrolling through the internet, photos of girls with extraordinary makeup looks, makes it seem like no one is doing the basic looks anymore. The makeup industry now is all about the crazy colors, the cut crease, and the bushy eyebrows.  However, whether you like natural makeup looks or glam makeup, knowing how to do the basics is crucial. Whatever makeup look you choose to do, basics are always what gets you going.
Knowing how to apply the basics, will help you nail a makeup look and get the most out of the products in your makeup kit. So if you're looking for a way to apply makeup and perfect the basics, you're in the right place. In this article, we've prepared for you a guide on how to apply full face makeup step-by-step from scratch and what you need for a full makeup look.
Before we get into the process of doing full face makeup, let's discuss the time needed to do it so you don't end up rushing out of the door. How long does it take to do full face makeup? It depends on the makeup look you're going for, but usually, a full face, minimal / no eye makeup look would take around 15-20 minutes. An everyday makeup look that includes eye makeup would take from 30 to 40 minutes. And finally, an extra glam makeup look would take an hour or so. Briefly, it all depends on the look and your makeup abilities.
How do you do full face makeup?
When it comes to makeup, it's all about the application, and when it comes to the application it's all about the order you apply the products. There's no specific order to apply makeup, every person has their way of doing it. But if you have no idea where to start… here's a starting gate for you!
First, you must know that a no-makeup look looks as good as a makeup look that is applied to a prepped skin. So you want to make sure that you don't let any makeup product touch your skin before you complete your skincare routine. A skincare routine can include steps like washing, cleaning, and putting on moisturizer. Prepping your skin before makeup will assure you a smooth canvas to start with and a flawless-looking makeup looks at the end.
The role of a primer in creating a makeup look is to fill in the lines and pores on your face creating an even texture, and surface for your makeup. Many people do not consider wearing primer every day, but surely a primer can blur skin flaws, make the makeup look stay for longer, and create a great base for your makeup.
There are multiple ways to apply primer, you can either apply it with your hands or your makeup brush/sponge. But what makeup experts suggest is to squeeze a bit onto your fingertips and then start patting it with your fingers on your skin, starting from the t-zone area expanding to the other parts of the face.
Color Correcting Concealer
Neutralize discolorations and hide redness, dark circles, dark spots, and hyperpigmentations by using a color-correcting concealer. Colour correctors usually come in 4 different shades (green, yellow, pink, & orange) each one with a different purpose. Use the green one for redness and acne, and the yellow one for dark purple bruises, veins, and under-eye circles. The pink one if you have a light skin tone but dark under-eye circles, and finally use the orange one if you have dark skin with dark under-eye circles.
To apply a color-correcting concealer, just blend a small amount of the concealer with your fingers onto the discolored areas you want to hide.
Foundation is that makeup product that no-makeup look can go without. When buying a foundation for yourself, you need to make sure you choose the right shade for yourself and the right formula that suits the type of your skin. Choosing the right shade can be hard and will take time, but it's all worth it for achieving the perfect look. To find the perfect shade for your skin, test different shades out on your jawline and get the shade that fades well in the skin with time without the need to blend. And if you're struggling to find your shade, you can always mix and match different shades until you get the desired shade that suits your skin.
The perfect foundation isn't just about the perfect shade, but it's also about its formula. You need to get a formula that suits your specific needs. If you have oily skin, look for foundations that have a matte finish. A weightless, breathable formula. If you have a dry, flaky skin type, look for a hydrating formula that leaves your skin feeling balanced and glowy all day long.
To apply foundation, you can either use a damp beauty blender or a foundation brush. Some people even like to use their fingertips to apply foundation, but that's only efficient if the foundation you're using is a light coverage one. Whatever tool you choose to blend your foundation with, the best way to do it is to first apply bits of foundation on different areas of the face and then start blending from the center of the face going outward. Make sure you're rubbing it onto the skin correctly, so that the foundation is applied into the lines and the creases of the face, building good coverage.
Have blemishes or spots that the foundation can't hide? A full-coverage concealer that matches your skin tone will do the job. While the foundation is meant to cover up things like acne and scars, concealer is for more stubborn imperfections like dark under-eye bags and other facial blemishes.
Should the under-eye concealer be lighter or darker? It's best to own at least two shades of concealer, one shade that exactly matches your skin tone to hide pimples, and dark spots. And another shade that is a bit lighter than your skin tone can be used to highlight certain areas of the face.
Under-eye concealer goes on after the foundation so after applying your foundation, apply concealer beneath your eyes with a damp beauty sponge or brush to reduce the appearance of dark under-eye circles and create a bright look. Add dots of concealer on any other blemishes/spots you want to hide and then blend.
Now that you've finished building your foundation base, add dimension and sculpt your face by shaping out your cheekbones and jawline with some contour.
To be able to create the shadows, get a contour shade that is one or two shades darker than your skin tone. The best contour you'd get is a contour that has a creamy formula since it's easier to spread and glide on the skin.
Apply contour with a contouring brush along your jawline and hairline, under your cheekbones, and on the side of the nose.
Bronzer, blush, and highlighter
Add some sun-kissed glow to your look by applying some bronzer, blush, and highlighter. Each of them goes on different areas of the face, for example, bronzer and highlighter are usually applied where the sun normally hit your face (your forehead, nose, cheeks, and chin). While blush is applied on the apples of your cheeks with a fluffy makeup brush.
You can find these three products in one palette and different shades. For bronzer, it's safer to work with one that is a shade or two darker than your skin tone. For highlighter, silver, pearls, and pinks are best for fair-toned skin. While peach and champagne are best for medium skin tones. If you're a person with a dark skin tone, go for gold, copper, and bronze highlighter shades. For blush, get a shade that's
around pink & peach tones if you have a fair complexion and a plum shade if you have a medium/dark complexion.
Time for eye makeup! Eye makeup is the most exciting part of a makeup look, it determines the makeup style you're going for and you can go all crazy with it. The first step in eye makeup is doing your eyebrows, defining your eyebrows can change the look of your face. It's a don't-skip step, the shape of your eyebrows can turn your face from looking tired to youthful and energetic, from angry to soft. So it's necessary to define and shape them. You can do so by using an eyebrow pencil or an eyebrow gel for sticking the hairs in place.
To get the perfect eyebrow look, first, take a spoolie and brush your brows upward. And then, take whatever brow pencil you choose to work with and place its tip at the beginning of the brow and start brushing/filling the hairs upward and outward toward the tail. Keep building and experimenting until you achieve your desired look!
The eyeshadow part is where it gets creative. Eyeshadow can complement the makeup look remarkably, whether you're going for neutral shades of eyeshadow or colorful hues. Whatever eyeshadow color you choose to use, get another darker/lighter shade that complements that shade to be able to create a defining shape for your eyes.
Now for the application part, start with the lighter shade and apply it across the entire lid from the lash line to just above the crease of your eyelid using an eyeshadow brush. After putting on the lighter shade, dip the eyeshadow brush into the darker shade and apply it to the outer corner of your eye, just above the lash line and under the brow bone across your eyelid crease. Avoid applying the dark shade to the center of your eyelids, so that you don't darken the eyes.
The next step is eyeliner, eyeliner is an essential step to any makeup look. Eyeliner can change the shape of your eyes, it can make them look bigger or even smaller. It can also make the eyelashes look thicker and draw attention to the eyes. We suggest applying eyeliner after the eyeshadow and right before the mascara to avoid any smudges. There are many different styles of eyeliner, so it's up to you how you choose to apply it.
Mascara is the number one product in any makeup kit, it makes your lashes thicker and brightens up your eyes. When getting a mascara, look for a mascara that has a fluffy brush that can brush through the lashes easily and a formula that won't weigh your lashes down or make them sticky.
Before applying mascara, start with curling your lashes with an eyelashes curler by placing it on the upper lashes and closing it gently, wait for a few seconds then release. Then grab your mascara and brush thoroughly through the hairs of your eyelashes, you can even wriggle the brush while brushing so you create even more volume to the lashes.
Experimenting with lipliners and lipsticks can be pretty much fun, they come in various colors and shades and it can be hard sometimes to choose the shade to use for a certain makeup look. So if you opted out for a neutral-toned eye look, go for a dark-toned lipliner and lipstick. If you went with bold, colorful eye makeup go for a neutral-toned lip liner and lipstick.
First, start with outlining your natural lip line with a lip liner to make your lips look fuller. You can even fill in your lips with lipliner to build a smooth base for the lipstick. Then, paint your lips with some lipstick and you're done!
Now that you're done with the look, it's important to secure your work in place and prevent it from melting away by spraying setting spray on your face. Setting sprays come in spray bottles, shake the bottle well before using and hold it about 8 inches away from your face, then spray your face in an X and T motion. And you're done!
With these makeup tips and steps, you can now nail the basics. ready to experiment with bold and extraordinary makeup looks.
Are you serious about becoming a professional makeup artist? Do you want to get a certificate in makeup artistry? Start your makeup career journey by signing up with our makeup school. Make-Up Atelier Dubai Training Center is the best makeup school in Dubai. It's specialized in the field of makeup and hairstyling. We are dedicated to helping our students build their basic makeup skills and advanced makeup techniques from professional trainers and makeup artists. We provide the best makeup courses in Dubai from beginner to advanced.