How do I start a career in makeup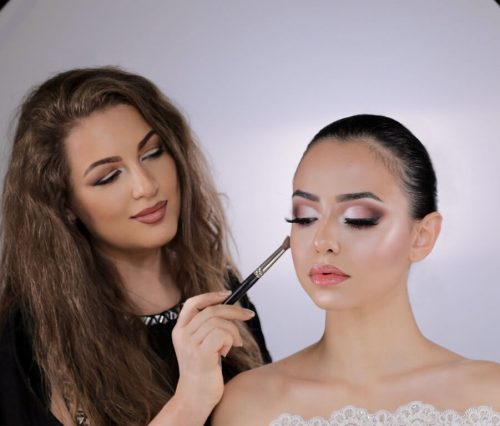 We all aim for something in life. And if you're reading this, then you're probably aiming to become a professional makeup artist.
Becoming a makeup artist, is like any other job, not easy. As a makeup artist, not only should you have the artistic ability and excellent color perception. But also be a hardworking, flexible person, who is confident in your abilities and good under pressure especially if you choose to work in the fashion industry. Which can be pretty hard sometimes.
So if you're aspiring to be a makeup artist. But don't know how to start or where to start, I'm here to help.
In this article, I'm going to mention some points that will get you headway in makeup artistry.
1) Get a makeup certification.
When you want to start a career in makeup artistry, the first thing you should consider is getting a makeup certification.
A Makeup certification can put you steps ahead of other makeup artists. It shows that you have experience in this major and that you're qualified for such a job.
You can get a makeup artist certification by going to a makeup school or attending a makeup course that covers all the makeup bases and showcases all the techniques of the makeup style you choose to specialize-in in your career.
In makeup training centers like makeup atelier Dubai, the best makeup school in Dubai, we present in-person makeup courses in Dubai that get in-depth about the path and makeup style you choose to study. Whatever path you decide to go for, there is a certain makeup course for you. Therefore, it's easy for you to learn makeup and hone your skills as a makeup artist in that field.
The Fantasy Make-up course is one of these courses, it develops your ability to create extraordinary makeup looks that express your ideas. The bridal make-up course is another example of these makeup courses. You experience applying makeup on different models and it teaches you bridal make-up techniques such as European, Arabic, etc.
2) Know your tendency in makeup.
In makeup artistry, there are hundreds of makeup styles and types you can choose to study and specialize in. And what you choose determines your career path.
When choosing a career path, think about the makeup style that excites you the most when doing. Think about where your passion lies in this industry. And what you want to learn more about and if you're good with doing it for a living.
 3) Practice. Practice. Practice.
Develop your skills, even if you get a certificate and graduate from a makeup school. You need to keep practicing and get your hand gets used to applying makeup every day on yourself and most importantly on others.
Practicing is so important for you to be able to master makeup.
At first, you'll need to ask as many people as you can to apply makeup. Try to choose people who have a face structure that showcases your makeup skills in the best way possible.
That will not only help you with getting your hand used to applying makeup, but it will also help you experience different skin colors, textures, ages, faces, and needs.
4) Ask for internship work.
If you can get in touch with your favorite makeup artist, ask them if they would be willing to take an intern.
Doing an internship will get you more experience and it will teach you new makeup techniques and tips.
If they can't commit to an intern, ask them if you can shadow them for at least a day or two or maybe even just a few hours.
You can also find a job at a cosmetics counter in your area if you're not able to work as an intern. Working in a cosmetics store will allow you to practice applying makeup to hundreds of people. And you're also getting paid for it, so it's a win-win.
5) Reflect on your makeup skills.
From time to time, you need to sit with yourself and reflect on your makeup skills. There's always room for improvement.
Check on others' work. Get inspired. And see what you can get better at. Define that, and work on it. Watch YouTube videos about it and find people who are good at it and learn from them. And focus makeup on it more next time you apply makeup.
Know how to measure progress. To get better at something is to know how better is measured. How is good measured? How to know if you're making progress or not? Knowing the answers to these questions will help you focus your effort.
Knowing exactly what people want regarding the thing you want to get better at, will also help because then you know the lines that you can improve yourself upon.
Challenging yourself and taking risks in the field you want to get better at is also a good thing to consider. Because, first, taking risks means growing. Second, it helps you measure and determine your progress and growth.
6) Build your makeup artist portfolio.
A portfolio is the main body of your career as a makeup artist. Therefore, being careful and eager is the first step in creating a portfolio. Your portfolio should display your best and finest work.
There are some points that you should focus on while creating your portfolio. And here are some. First, assure that when choosing the models to represent a makeup look on, pick the ones that have a profile and features that can showcase your makeup skills in the best way possible. That's important so that your skills don't get missed in the picture.
Second, to keep your portfolio updated, you have to get creative and keep collaborating with other artists and photographers. When collaborating with other photographers, you'll have the chance of getting great pictures that center the light on your makeup skills.
Collaborating will also help you with building your network which has a big impact on your career and client base.
Need more help building your makeup artist portfolio? we provide artists portfolio building services.
 7) Promote yourself.
In this era, your whole career stands on promoting yourself, particularly on social media platforms. Clients won't come to you and know about you magically, you have to put the effort into it. Social media's role in our lives keeps increasing day by day and so does the number of people who use it.
So start posting pictures, good pictures, of the makeup looks you do. Notice how people react to them. What skills do they criticize and which ones do they cheer?
Going on social media will not only help you improve your skills by looking into people's feedback, but will also help you reach more audiences. Which means growth, leading to more clients, and building a career.
When going on social media, you need to be consistent and post as many posts as you can. But most importantly, interact with people, stay active, and connected with your followers. And if they ask any questions, answer them. That will create a nice and warm background about you. Therefore, more clients and popularity.
8) Major in the subject.
Having a degree is not fundamental to becoming a makeup artist. However, if you feel like you're ready and capable of taking the next step, adding up a degree to your experience in a makeup school is a great option. When you get a degree, you will have opportunities more than just getting known on the local level it will also help you achieve international success.
So you may ask "Which subject is best for a makeup artist?"
All kinds of makeup degrees will only do good for your career as a makeup artist. But some degrees are more popular than others, such as a BTEC level 3 diploma, a VTCT level 3 diploma, an ITEC level 3 diploma, a city, and guilds diploma, and a Makeup Standards Authority (MASA) diploma.
All of these subjects are offered and taught in makeup schools, makeup training centers, creative arts schools, and beauty academies.
When choosing one to study, ask yourself these questions. Am I capable of studying this? Am I interested and willing to commit to such a thing? Are the timing and the budget okay for me?
Because it's like studying any other major, it's hard, stressful, and can get overwhelming at times.
You can also take advanced makeup classes and makeup courses besides your diploma to tackle more specific skills.
9) Build your professional makeup kit.
Having your professional makeup kit is a building block for your career as a makeup artist. It will put you in the ready-to-go mode every time you get a job opportunity. You won't have to think about it much, and it also assures that you're comfortable and confident when applying makeup with products you know and already tried before.
Your professional makeup artist kit should contain your favorite makeup, products, brushes, and tools that suit people of all ages, skin colors and textures.
Add all of these products and tools in a makeup artist kit, and organize them in a way that they're easy to reach, maybe sort them according to colors, priority, type, or even according to the brand.
A makeup kit can create a professional overview of who you are as a makeup artist. And it'll also be a special thing about you in the industry.
10) Stay passionate, despite the barriers.
Keeping the passion and the motivation about something can be pretty hard sometimes. Especially when it gets stressful and overwhelming. But remember that you only got one shot at life, so ask yourself and remember why you started and why you should keep going no matter the obstacles.
Whenever you feel like quitting, push yourself and realize that this is the time that you should be doing makeup more than ever. So take every opportunity that comes your way and don't say no. Experiencing what it's like to be in the atmosphere of photoshoots and campaigns can spark motivation in you again.
And remember that whatever extra stress and work you're going through at the moment will be worth it in the long run.