How to become a professional makeup artist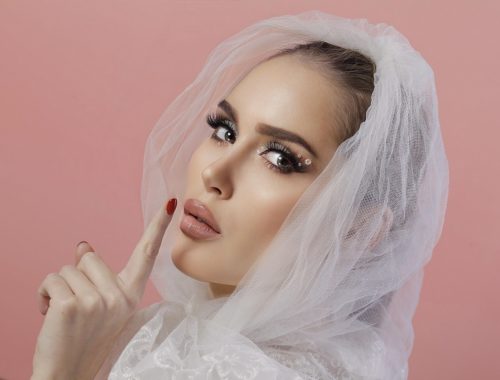 A step-by-step guide on how to become a professional makeup artist.
Makeup artistry is the ultimate dream job that nearly everyone wants to pursue now. The job that gets you paid for envisioning new beauty trends, experimenting with them, and working with international models and public figures. But even if you have the skills and the audacity for becoming a makeup artist, it's quite hard to get known in this beauty industry hence why the number of people that are already trying to come about and take place.
Thus, to be able to reach the point of being a great known makeup artist you have to follow these steps that'll skyrocket you from an amateur makeup artist to a full-on professional.
1) Get the right education.
Becoming a professional makeup artist doesn't happen overnight. It takes time and hard work. So if you're really thinking about pursuing makeup artistry as a real full-time job, attending makeup courses is a great option to consider. There are multiple and different makeup artistry programs worldwide that you can attend. Do your research and find the one that suits you best.
Going to a makeup school and attending makeup courses whether online or offline, will not only get you a certificate and some experience that'll help you go international but will also expand your contacts in the industry. This plays a big role in who you are as a makeup artist and will open doors to new jobs for you because most of the work in this creative industry usually comes from other photographers, makeup artists, and hairstylists referring to you.
While looking for a makeup academy to enroll in, make sure you choose the one that has the exact type of course that covers all the makeup basics and the tips and tricks of what the career path you choose as a makeup artist requires.
Many makeup artists do not consider getting a formal education. But if you get one, it'll surely rank you up a position.
2) Figure out which path you want to take in this niche.
Makeup artistry is a creative world, it does not have a single specific path that you need to follow to pursue your dream as a professional makeup artist. There are tons of different paths in this niche, such as (bridal makeup artistry, fashion makeup artistry, TV and film makeup artistry, creative makeup artistry, etc..)
The path that you choose must be one that you have great interest in and one that appears eye-catching to you. Be careful with what you choose, because it's going to stick with you your whole career. And if you try to switch your path as a makeup artist when you're already successful at one, may cause a drop for you in the industry, and the people that were interested in your work may not be anymore. And that may take you down to where you first started as a makeup artist.
3) Professional makeup artistry portfolio.
Think about your portfolio as a gallery for your work. A good portfolio contains high-quality pictures that showcase your by far best work. And no, your social media accounts are not your portfolio.
You can link your portfolio to your socials so that it's easy for potential clients to reach it. The photographs you include in your portfolio must be high quality and must have good lighting.
Good-looking pictures can reflect a positive overview of who you are and how you work as a makeup artist.
If you need more help with your makeup portfolio we offer portfolio-building for makeup artists service.
4) Build a network with people in the makeup industry.
As a makeup artist, most of your work will come from referrals. So you have to keep in touch and make new connections with other makeup artists, hairstylists, and photographers. When you build relationships with people who are from the industry. They are more likely to refer to you when working on a new project. Because now, not only do they see you as a great makeup artist but also as a close person to them.
And remember that the bigger your circle is, the bigger the opportunities of job offers you'll get and the closer you'll get to achieving your dream as a makeup artist.
5) Stay up-to-date with beauty trends.
The beauty industry is a constant wave of trends. It's constantly changing and it's in constant creation of new makeup and beauty trends. Learning the new trends and trying new looks and makeup techniques will help you keep developing your skills and will also keep you ahead of other makeup artists.
As a makeup artist, you should always be evolving and always keep experimenting with new makeup looks and color palettes and shades. That'll show clients and impress them by your eagerness and capacity always wanting to build and improve new skills in your career in makeup artistry.
6) Go digital.
Nowadays, social media has a big impact on your growth and popularity. Once you go online and start posting regularly (pictures of makeup looks you've created or videos of you applying makeup, etc…), clients are more likely to take you seriously and people will start having more interest in your work. Which will lead to a massive number of following, which leads to more people wanting to get in touch with you to work and schedule appointments. And the more you expose your work and are exposed to others, the more you'll grow. But always remember to keep it professional and stay away from personal drama.
Therefore, you should take advantage of it and start using social media to promote yourself.
7) Take any job you can.
When you first start off as a makeup artist, you'll need to have a lot of experience and knowledge of the industry to be able to get noticed. You have to be used to the environment and handling the chaos of such a job.
So at first, even if you get offered a low-paid job, agree to start working. Every job you agree on will get you to experience new challenges and communicate with other artists that'll help you build a network that is important for you as a professional makeup artist. And will also get you to practice applying makeup, and we all know that practicing a craft makes a master at it. Play with different makeup products and cosmetics on different and as many skins, colors, ages, and features. By practicing and meeting other makeup artists, you'll learn new makeup secrets and techniques that'll improve your makeup skills.
So don't be afraid of experiencing and working on different projects, and just go for it and believe in baby steps.
8) Be friendly and attainable.
When working as a makeup artist, you need to be friendly and always kind to people. You have to be open to people, you need to make them feel good and give them good vibes while working. People are going to ask you questions, they are just as curious about you as you are about who they are. So you have to be approachable. If you're a good, skilled, and gifted makeup artist but people feel uncomfortable around you or you give them bad vibes and you seem so rigid to them that they can't even talk to you, they won't consider working with you again.
Energy is key. Always focus on vibrating good energy to people around you.
9) Attend beauty and makeup related events whenever you can.
Attending beauty and makeup events is a very important element in your career as a professional makeup artist. You'll get to know other photographers, makeup artists, models, and hairstylists. Which will expand your list of industry contacts. And will increase the exposure of your work which will open new doors of job opportunities for big events and important clients. And it will also help you get a better overview of the industry and what's going on so you don't have to miss out on anything.
10) Have your own professional makeup artist kit.
Last but not least, every professional makeup artist should have their own professional makeup artist kit. A professional makeup artist kit contains your favorite makeup products and cosmetics. From high-quality foundations for all skin tones to different shades of eyeshadows and lipsticks to mascaras & to soft, different-sized makeup brushes. All of these things must be included in your professional makeup artist kit. And all of these products/cosmetics must be suitable for all people, ages, skin tones, and skin textures. A professional makeup artist kit tells a lot about a makeup artist, and it shows how well they're organized and ahead of their game in makeup artistry.
And here comes another advantage of attending makeup courses in Dubai. Most makeup schools and academies include a free makeup artist kit at the beginning of your makeup training. And that will help you have a better idea about how to put together a professional makeup artist kit if you're new to it.
If you've reached this point of the article, that may mean that you're serious about becoming a professional makeup artist. Do you want to follow all these steps and get a certificate in makeup artistry? Well, Make-Up Atelier Dubai Training Center is the best makeup school in Dubai. It's specialized in the field of makeup and hairstyling. We are dedicated to helping our students build their basic makeup skills and advanced makeup techniques from professional trainers and makeup artists.
We offer the best makeup courses in Dubai and training programs that suit whatever path you choose to pursue in your career as a makeup artist.
We offer an Arabic Make-Up Course, which will teach you different Arabic makeup styles.
We also offer an Airbrush Make-Up Course that will give you a detailed explanation and show you how to work with the airbrush machine.
We also offer an intensive professional make-up course that if you join as a beginner makeup artist you will end up a full-on professional makeup artist at the end of the course.
If you want to learn more about the other makeup courses and programs we offer, head to our "our courses" page on our website.
At the end of any makeup course, you attend at our training center, you'll be given the final exam. Students who pass the "makeup certification" exam, will take an international French Diploma from "Makeup Atelier Paris". And an international certificate from our makeup atelier training center in Dubai.
We also provide a KHDA approved international certificate at our makeup training center, for all students that take at least one of our makeup courses.