How do i start a makeup artist portfolio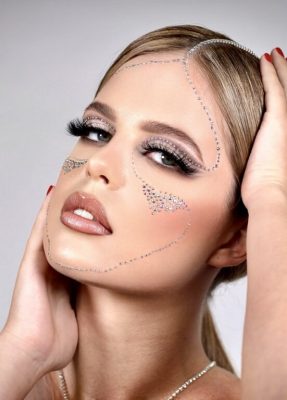 Being a successful makeup artist isn't just about your makeup artistry abilities and skills. In order to be a successful and professional makeup artist, you must focus on the business side of makeup artistry too. Building a makeup portfolio is a crucial part of that business side. So, what is a makeup portfolio? And why is it important for your career as a makeup artist?
This article will answer these questions and more, follow on reading to get a full guide on how to build a portfolio that stands out that can take your career to the next level.
What is a makeup portfolio?
A portfolio is like a resume for a makeup artist. Your portfolio is a place where the spotlight is fully on you and your makeup skills, not on the hair, not on the styling, just you and your skills. A portfolio should show potential clients just exactly how talented and professional you are.
The main thing about a makeup artist portfolio is adding pictures of your work. These pictures must showcase your skills in the crispest, most beautiful way possible.
Why is a makeup artist portfolio crucial in my career? Well, it is crucial because a makeup portfolio makes you look more professional, serious makeup artist. Which raises your chance of getting a job offer from top agencies and names. And it also gets you exposed to new potential clients by promoting and sharing it on your social media accounts and around your network.
Now that you know why a makeup portfolio is important, you may be wondering "How do I start a makeup artist portfolio?" Hold tight! Because that's what we're discussing next.
How do you make a professional makeup artist portfolio?
Creating a makeup artist portfolio from scratch is going to take time and effort. But trust me, it's going to be worth it and will pay off tenfold when it turns out to look amazing.
There are a few things that you must include in your portfolio to ensure the positive effect that a portfolio can have on your career. Here they are:
An about me page
Your portfolio is not only about sharing and putting out your fantastic makeup skills, it's also about connecting with people and letting them know who you are as a makeup artist and the story behind this all.
So, adding an about me page might be and is a great idea. What inspired you to be a makeup artist? What kind of makeup artistry do you do? Talk about yourself, describe who you are and the kind of work you do. Share your experience and achievements. You might as well mention your educational background and the degrees you have (if there are any). You should list all of the makeup courses and makeup classes you attend too.
An about me page is intended to give the viewer / potential client an overview of you. Mention as many things you've done throughout your career that you're proud of. When the viewer read about your achievements, you will grow even more excitement in them letting them wonder about the work of such a great makeup artist.
Even if you're not that experienced, adding a brief biography is always a good idea for people to know you better.
Pictures of your work
The main point of a makeup portfolio is displaying pictures that showcase your makeup work and skills. Therefore, it should be your main focus while building the portfolio. These pictures' focus is usually on the makeup work.
You should instantly catch the viewer's attention by adding your boldest work as the first picture, you want the first picture to imply the way you want to be seen as a makeup artist. It should represent your eagerness and love for work and success in your career. This picture can be a picture of a makeup look you did on a famous model, a picture photographed by a famous photographer, or a picture of work you did for a well-known magazine/agency.
So If you ever worked with any famous artist, photographer, model, A+ celebrity, or had a very known publication, make sure you use that to your advantage and add the shoot at the front of your makeup portfolio.
People trust and always look out for the decisions that famous figures make. So if potential clients saw that you worked with such big names, they're going to suppose that you're an amazing makeup artist and they will be more excited about hiring you.
Make sure that all the pictures you're willing to add to your portfolio, are pictures from the strongest shoots you've ever done to make people want to see and scroll down for more pictures.
Avoid adding random, blurry pictures just to have more content in the portfolio. Poor-quality pictures will only do more harm to your career than any good.
Now for the kind of pictures to include. The first thing to consider is adding a variety of images and styles. You want to show the viewers that you are a flexible makeup artist and are capable of doing numerous different looks. Adding a mix of pictures of clean and editorial looks you've done would be good since the ability to create these kinds of looks is what's looked for in a makeup artist nowadays.
The pictures added to your makeup portfolio must include headshots / close-ups of eyes, lips, nose, and other notable features.
Black and white pictures are also essential for a makeup portfolio. Because black and white pictures demand a different type of skills than makeup done for colored pictures.
Be certain about the pictures in your makeup portfolio. If you're looking for a job in bridal makeup artistry, for example, you will want to go for less high fashion or editorial looks and take a bridal path to your portfolio building.
If you're still new and you go to a makeup school, you can take pictures of the makeup looks you've created on the models there. Some makeup schools, like Make-up Atelier Training Center, the best makeup school in Dubai, even offer a professionally done makeup portfolio including all your work at the end of every course.
If you're not new but still looking after developing your skills, look for a makeup school that offers a makeup portfolio building service. That will save you time and assure you a high-quality portfolio because of the makeup pictures that are usually taken by professional photographers in makeup schools.
Furthermore, if you're not that experienced and you don't have many professional pictures done yet, a good-looking portfolio containing only a few images can help you get noticed.
Everyone must start somewhere, so even if you have zero pictures to start with, multiple ways can help you get professional pictures done in no time.
At first, you'll not be known. So waiting for the next job offer to come to be able to take pictures for your portfolio doesn't sound like a good idea.
A great way to start is to stage your own photoshoot, you can either do that by paying a professional photographer, stylist, model, or hairstylist (which can be pretty expensive). Or you can look for other artists who are just starting out and are willing to create content for their portfolios. This kind of work is known by the name TFP, which stands for "Trade For Print". What this means is that a group of artists (makeup artists, photographers, stylists, models, and hairstylists) agrees on a project, everyone works for free, but they all receive the shots for them to use in their portfolios. When working for TFP, look for artists whose work style is the same as yours so that you guarantee shots that present your work in the best way possible.
Another way to get pictures for your portfolio as a makeup artist is to offer makeovers and take before and after pictures. Potential clients are usually skeptical and are hesitant to hire fresh makeup artists, and impressing the potential clients with your work is what before and afters does. Before and afters are like visual proof of the quality of your job, and they play a big role in convincing potential clients of how good your work is.
Listing previous clients and publications
Listing previous clients and publications can be used as social proof. If the potential clients looking at your portfolio see others praising and recommending you and your work, they are more likely to hire you.
So add a list of testimonials that complement your work right after the pictures are displayed. Listing previous clients and publications is a great way to explain your work standards.
Add your contact details
A portfolio can never go without a contact page. You want to make it easy for people to contact you if they like your work and would love to offer you a job. Add your business email address, your phone number, and finally, link all your social media accounts (only if you're active on them).
These are the most important things to include to guarantee a stellar makeup portfolio. Including these points and focusing on the details will make you look more professional and will increase your chance of getting great job offers.
Now that you know what should be in a makeup portfolio, let's talk about the design of the portfolio. A portfolio must be well-designed and carefully edited to tell a story of who you are as a makeup artist, you want to build a portfolio that shows that you mean business.
When it comes to the design of the makeup portfolio, every aspect of it matters, from the colors to the font to the layout you choose. They all add up together giving a look for your portfolio, that look can either give away a good or a bad overview about who you are as a makeup artist depending on how you choose to use the tools in your hands and design your makeup portfolio.
The template you choose for your portfolio must reflect the kind of makeup/work you do, for example, if you do classic/natural makeup looks, a simple/minimal design would fit best. If you're an editorial makeup artist, a modern and sharp theme for your portfolio can make you look like an expert. We don't recommend using any fancy, wild colors or animal prints for your portfolio. Try using white or peach tones, these kinds of colors would give a polished and professional look to your makeup portfolio leaving the focus on the makeup work and mirroring you as a mature, grown-up makeup artist.
More into the design, you can always play with the layout of the pictures to show a quick look at the overall work, leave space between pictures to rest the eyes, and make them comfortable looking at your work, leaving no distractions. Another important thing to consider is matching the font with the style of the makeup portfolio and the theme of your makeup pictures to give the portfolio a nice, put-together feel.
Tips to keep in mind
Now that you know all the basics and how to start building your makeup portfolio, we're going to mention some tips and points to keep in mind while creating your stellar makeup portfolio.
Don't make a mess and add all your work. Be selective and only choose your best, most popular makeup pictures for your portfolio. Limit yourself to a couple of photos only, good 10-15 pictures for the client to focus on.
Take care of the user experience. Build your portfolio/website in a way that it's easy to be used by all kinds of viewers. Ensure that it's easy to navigate between pages and sections of your makeup portfolio.
Keep your portfolio updated, keep it fresh and current by updating it with new work now and then. Keeping the same work in your portfolio for a long period of time can send a message that you're not working or hustling enough for your career which can push potential clients away. Weekly, monthly updates are the best for makeup portfolios.
Don't clutter your makeup portfolio with too much content. Don't add too many pages, just add the important details about your career and work. Including a brief biography about your career and who you are as a makeup artist, your work, and your contact details.
You can also add pictures of the makeup look showing a glimpse of the model's clothing or the style of the hair, for example, to show potential clients that you can be creative and create makeup looks that complement the shoot's idea.
Arrange the pictures in a logical order, and create a flow for your work. Group alike pictures together, that can be according to color, the shot type, etc…
Use social media to your advantage and check what makeup looks resonate best with your audience. Social media is best for that since people react faster and give feedback quicker by liking and commenting.
Building a portfolio is a process, you're not going to have many pictures or the best portfolio from the first try. But as time goes on you'll get more jobs and experience so will your portfolio evolve.