What education do you need to become a makeup artist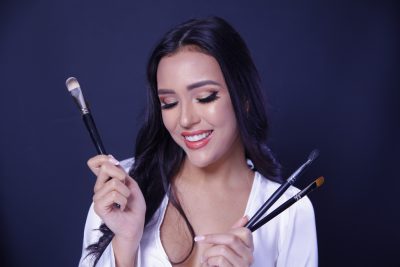 Are you creative and artistic? Do you enjoy experimenting with ideas and cosmetics? Do you have the courage to turn insecurity into confidence? If yes, then there's a big chance you're aspiring to be a makeup artist. As making your way into makeup artistry, you will need to get some education. That will help you improve your talent and get you a certificate that will ease the process of getting a job for you.
Education requirements as a makeup artist differ from one artist to another, it depends on the way you choose to grow your business. If you want to work as a freelancer, for example, there are no educational prerequisites. But if you want to work in an agency or a corporation, then it depends on the agency because each agency asks for different requirements. Therefore, you need to learn more about the agency you want to operate in to be able to get the right education.
In general, building a career in makeup artistry does not require specific education or qualifications, it depends on the talent and the way you choose to show up as a makeup artist. Nevertheless, most famous makeup artists did consider taking education which only helped them grow their talent, experience more of the work's atmosphere, looks, clients, and exposed them to big names in the field.
In this article, we're going to cover what possible degrees\education you can get and their advantages whether you're working as a makeup artist in theatre, movie, television, fashion, or in bridal makeup artistry.
Cosmetology Program
First, one of the basic certificates that any makeup artist can get is a cosmetology certificate. Cosmetology certificate programs are usually about general education that every makeup artist should master, these programs are offered in makeup schools offline and online. Cosmetology students receive professional training and learn a variety of beauty services including makeup application, hair cutting and styling, skincare treatments, and nail care. State rules, sanitation, bacteriology, and business skills are also taught to students of cosmetology programs.
Theatre Degree
A bachelor's degree in theatre is available to those who want to work as makeup artists in film and theatre. Many of these programs include makeup in their curriculum, and some even offer makeup majors. Basic makeup application, special effects (such as wounds and aging), and corrective makeup are all taught to students. During makeup school productions, students can put their knowledge to the test.
These two certificate programs are basic and will teach you all the general information and education you need as a makeup artist. Attending these kinds of certificate programs is essential in most workflows and countries.
In addition to basic makeup artistry programs, which generally result in a professional certificate. More precise programs like high fashion makeup courses, bridal makeup courses, fantasy makeup courses, and special effects makeup courses are also available and taught in makeup training centers & schools for those who want to work in specific makeup niches.
Specialized training may be required depending on the area in which you choose to focus your career on.
Getting specialized education in the niche you're into will teach you the techniques that are required and the basic looks that are common in the niche. It will also get you to know more about what the niche is all about, what kind of challenges you might face, as well as how to deal with them.
More precise makeup courses and programs are available in privately owned makeup training centers and schools like the "Makeup Atelier Dubai Training Center ". Makeup Atelier Training center is a makeup school in Dubai, it offers several makeup courses in Dubai that are concise and specialized for each makeup niche. Makeup Atelier Dubai also offers a Qualification Upgrade Course, which offers professional training. This course is aimed at those who aspire to improve their talents – for Make-up Artists to upgrade their qualifications. The most popular salon make-up techniques, as well as Bridal looks, European, Arabic, Asian, Fashion, 3D, Retro, and Neon make-up, are all covered in this course, and the student can pick and choose the skills they wish to learn.
The professional makeup course is another broad course that is taught at the Makeup Atelier Dubai Center, which basically, goes in-depth on almost all the makeup styles and niches. This course will teach you everything you need to know about European, Arabic, Brazilian, Asian, Retro, Bridal, Fashion, Neon, and 3D make-up from the ground up. Everything from skin preparation to strobing and contouring will be covered.
Makeup Atelier Dubai Training Center offers a wide selection of specific courses that are specifically designed for makeup artists who are already familiar with the basics and are just eager to acquire new techniques in the field/makeup style and improve their already-mastered talents. Some of these best makeup courses in Dubai;
This course is all about airbrush makeup techniques, applying makeup with an airbrush (which is one of the most popular ways), highlighting, contouring, and blushing. As a student in this course, you'll get a detailed explanation on working with an airbrush, and a show in practice with the head makeup artist.
The best course for both experienced and beginner make-up artists. As a student in the Bridal Make-up Course, You'll master the most popular bridal make-up styles, including European, Arabic, and Asian techniques. You'll work with diversity within models. And you'll get photographs of your work.
Extraordinary makeup looks are worn and required in different events, whether it's for a fashion show, makeup event, or even a Halloween party. Therefore, the ability to do fantasy & extraordinary makeup looks is essential for every makeup artist at any stage of their career. In this course at Make-up Atelier Training Centre, you'll practice doing different fantasy makeup looks on different models and learn new techniques from top makeup artists. In the end, You'll be able to express yourself and create distinct styles for various occasions.
This course will provide you with a complete understanding of high fashion styles. All inspired by the most recent Haute couture photos. This course is especially helpful for those who want to work in magazines, photoshoots, or even collaborate with other artists (stylists, photographers, etc..).
Cuts, bullet wounds, aging, wrinkles, bruises, scars, burns, and all kinds of special effects that can be done on the skin are professionally taught in this makeup course using special materials like the sculpture gel. Beginner makeup artists and proficients will greatly benefit from this course especially if they're planning on working in tv and film.
Make-Up Atelier Dubai has courses that will take you to your true calling. Students gain the broadest variety of experience and abilities necessary to join professional leagues by working in pairs with models. All the students receive an international certificate from the Make-up Atelier Dubai Training Center which is approved by KHDA (the educational quality assurance and regulatory authority of the Government of Dubai, United Arab Emirates).
These are just a few of the courses that are offered in the Make-up Atelier Training Center. Taking makeup education in beauty schools in Dubai like Make-up Atelier Training Center would only step up your makeup artistry career, and you'll probably end up both a master and an international makeup artist.
Qualifying For A State License
Before you enroll in a makeup artist program at your local beauty school it is important to learn more about your state's licensing requirements. Although it may vary from one state to another and one program to the next. A comprehensive program in esthetics will typically include 300-800 clock hours of theoretical and practical instruction, while a cosmetology program typically includes 1000-2000 click hours. A state license often requires completing state and national tests in addition to a formal study in cosmetology, esthetics, or makeup artistry.
As a makeup artist, your career isn't just about the talent and the way you work. Instead, it's about the talent, the way you work, and how you take care of the business side of your career too. By the business side, I mean everything from your portfolio to your client's comfort. So, here are a few tips for you that will make you look like a professional makeup artist and help you grow your makeup artistry business.
The most important tool for an aspiring makeup artist is a well-developed portfolio, so most makeup artists today take the time to develop both a print and an online portfolio.
As a new makeup artist, you might photograph your work, but as you become more experienced you may have your work professionally photographed. You may even consider having professional models to showcase your work.
In any case, you should ensure you are showcasing a variety of styles, such as bridal makeup, magazine styling, haute couture makeup, and Avant-Garde makeup. Early in your career, you will benefit from developing a diverse portfolio since clients and employers will undoubtedly go to see examples of your work as well as proof of your ability to easily transition from one look to another. Another important thing to focus on is broadening your network of contacts by attending industry events and volunteering your services so that you meet new people and learn new techniques.
Learn from the pros
You should also research the masters in the field of makeup and learn about the history of professional makeup artistry. You can do this by trying out the looks that are most appealing to you and researching the trends that were popular decades before you were born. Take a look at magazines and books for more insights and visit as many beauty blogs and websites as possible to learn about makeup looks.
Get the right training
We already talked about training and education in the first part of this article, but it's important to know that when you're serious about becoming a makeup artist you should seriously consider going to a makeup school for your field. The beauty school you choose should cover all aspects of applying professional cosmetics, including instruction on how to apply makeup for television and film, as well as fashion and beauty photoshoots and magazine spreads. Choose the best makeup school in Dubai that offers a program that gives you intensive training, so you'll feel comfortable with receiving your certification and being recommended for jobs at the end of your training.
Marketing and Promotion
Once you've officially received your training, you'll need to market your skills and services as much as possible. The internet is one of the best places to promote yourself as a professional makeup artist. You can start a social media page where you upload photos of your various makeup looks. It may also be helpful to upload short videos of you performing specific makeup tasks, such as applying a cat eye or choosing the best nude lipstick based on skin tone and undertones. Take advantage of the impact social media has on business marketing. Once you have your own social media page, clients are more likely to take you seriously, especially when you upload content regularly and make it easy for followers to get in touch with you and schedule appointments.
Always Be Professional
As a makeup artist, your ultimate goal is likely to get celebrity clients. While you may be extremely excited to meet someone whose work you admire, remember to remain professional. Remember that your reputation is on the line. There's a time to talk to your client, and even to mention that you're a huge fan, but your objective should be to perform your job with quality and precision and to make the client feel relaxed. You can accomplish this by playing nature sounds in the room for a soothing effect, or simply being quiet for long stints so your client will have time to think, answer emails or take phone calls.
Customize Your Business
Don't forget to tailor your makeup business so that it reflects your training and personality. Some people are more attracted to makeup artists who also concentrate on skincare and a holistic lifestyle, while others want to use beauty products that will immediately get the attention of others and promote a message of boldness and individuality. Your clients should feel as though they had a worthwhile experience after spending time with you. This means being true to yourself, being organized, and paying attention to the customer's preferences and needs.
Don't Forget the Details
Playing music in the background while you work can be appealing to some clients. Relaxing music that showcases the sounds of nature, jazz music that embodies the theme of looks inspired by the 1920s, 1930s, or 1980s that remind clients of a bold eye, and lip makeup from that era will help make your clients feel more at ease. You can also offer books or magazines for your clients to read while you work, and if you have additional training, let your clients know whether you're qualified to provide facials or apply lashes or brow services. The more you create a space for clients to take care of all their beauty needs in one place, the more people will rely on your makeup business to look and feel their best.